Zoloto (Золото in Russian) means "gold" in Russian
Appears to be based off the Porsche 911 Turbo
Do you like Porsche? And what about gold? Would you like to combine them? In the result you'll have a gold Porshe. Some days in Russia was introduced a real masterpiece – gold plated Porsche 911. Gold Porsche is layered with around 40 pounds (18 kg) of pure gold.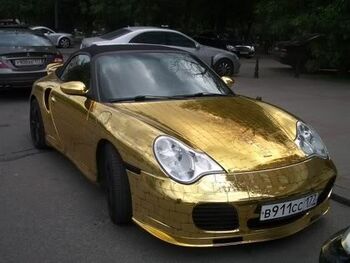 Ad blocker interference detected!
Wikia is a free-to-use site that makes money from advertising. We have a modified experience for viewers using ad blockers

Wikia is not accessible if you've made further modifications. Remove the custom ad blocker rule(s) and the page will load as expected.