In Chinese philosophy, the concept of yin yang is used to describe how seemingly disjunct or opposing forces are interconnected and interdependent in the natural world, giving rise to each other in turn.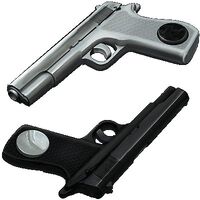 These two weapons appear to be low detail versions of the M1911's with customized triggers, altered grips, and removed slide and magazine releases.
Ad blocker interference detected!
Wikia is a free-to-use site that makes money from advertising. We have a modified experience for viewers using ad blockers

Wikia is not accessible if you've made further modifications. Remove the custom ad blocker rule(s) and the page will load as expected.