"

The Inventory Revamp project is well underway and the inventory page will be more organized and tell players what they need and what they don't need. An exciting addition will be a feature that serves as a Pawn Shop and will allow players to have a use for the items they don't need anymore. The goal is the give players a way to leverage all the items they have acquired throughout the game. Scott stated that "Hopefully this system becomes a foundational aspect of the work we are progressing on related to trading".

"
"

Time to clean out your closet and pay a visit to the new Mafia Wars Pawnshop! Want to trade in some of your old items for awesome new LE loot? Just head over to Trader Goh's and get the best deals in town!

If you're at least at level 20 in Mafia Wars, you'll be able to unlock the Pawnshop feature. Each loot item Trader Goh has will be color-coded with the items quality type and will show you exactly what's needed to complete the trade. Simply choose the new item you want and you'll have the option to either purchase it using only Reward Points, or trade in some of your old loot along with a small transaction fee.

If you don't have the Pawnshop feature yet, hang tight - we're slowly rolling it out to all of our users so everyone can take advantage of the great deals and steals. Come visit Trader Goh's and see what he can offer you!
"
411 and FAQ
Trader Goh's Pawn Shop was released January 7, 2011 and offers you the chance to trade in old items for new items. The required amount of old trade-in items differ from item to item, but always cost you a certain amount of RP.
Items may also be purchased outright for RPs.
Regular Trade
Edit
Items traded in using a Regular Trade can be selected manually.
Power Trade
Edit
Items traded in using a Power Trade are selected automatically and can not be customized.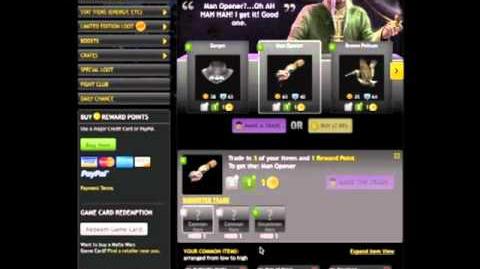 Ad blocker interference detected!
Wikia is a free-to-use site that makes money from advertising. We have a modified experience for viewers using ad blockers

Wikia is not accessible if you've made further modifications. Remove the custom ad blocker rule(s) and the page will load as expected.