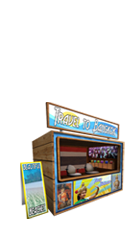 Initial Costs
Edit
Initial Takeover Cost: B$14,740
Initial Takeover Output: B$18,496 every 48 hours
Initial ROI: B$14,740 Cost / B$9,248 Daily Profit = 1.59 Days to Return Investment
Upgrades
Edit
| Level | Cost | Income |
| --- | --- | --- |
| Level 1 | B$ 14,740 | B$ 18,496 |
| Level 2 | B$ 16,170 | B$ 20,992 |
| Level 3 | B$ 17,600 | B$ 23,488 |
| Level 4 | B$ 19,030 | B$ 25,984 |
| Level 5 | B$ 20,460 | B$ 28,480 |
| Level 6 | B$ 21,890 | B$ 30,976 |
| Level 7 | B$ 23,320 | B$ 33,472 |
| Level 8 | B$ 24,750 | B$ 35,968 |
| Level 9 | B$ 26,180 | B$ 38,464 |
| Level 10 | B$ 27,610 | B$ 40,960 |
| Level 11 | B$ 29,040 | B$ 43,456 |
| Level 12 | B$ 30,470 | B$ 45,952 |
| Level 13 | B$ 31,900 | B$ 48,448 |
| Level 14 | B$ 33,330 | B$ 50,944 |
| Level 15 | B$ 34,760 | B$ 53,440 |
| Level 16 | B$ 36,190 | B$ 55,936 |
| Level 17 | B$ 37,620 | B$ 58,432 |
| Level 18 | B$ 39,050 | B$ 60,928 |
| Level 19 | B$ 40,480 | B$ 63,424 |
| Level 20 | B$ 41,910 | B$ 65,920 |
| Level 21 | B$ 43,340 | B$ 68,416 |
| Level 22 | B$ 44,770 | B$ 70,912 |
| Level 23 | B$ 46,200 | B$ 73,408 |
| Level 24 | B$ 47,630 | B$ 75,904 |
| Level 25 | B$ 49,060 | B$ 78,400 |
| Level 26 | B$ 50,490 | B$ 80,896 |
| Level 27 | B$ 51,920 | B$ 83,392 |
| Level 28 | B$ 53,350 | B$ 85,888 |
| Level 29 | B$ 54,780 | B$ 88,384 |
| Level 30 | B$ 56,210 | B$ 90,880 |
Each upgrade level increases income by additional B$2,496 every 48 hours.
Total Costs and Profit
Edit
Fully Upgraded Cost: B$ 1,064,250
Fully Upgraded Output: B$90,880 every 48 Hours
Daily Profit: B$90,880 x 0.5 = B$45,440
ROI: B$ 1,064,250 Cost / B$45,440 Daily Profit = 23.4 Days to Return Investment
Ad blocker interference detected!
Wikia is a free-to-use site that makes money from advertising. We have a modified experience for viewers using ad blockers

Wikia is not accessible if you've made further modifications. Remove the custom ad blocker rule(s) and the page will load as expected.