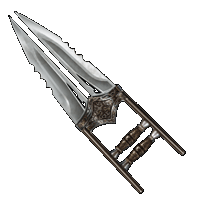 A Kattari, Katara or Katar (Devanāgarī: कटार, kaţţāri, kaţāra), also known as a suwaiya or Bundi dagger, is a type of short punching sword that originated in South India as "Kattari" and spread throughout India. It is used to make swift and quick attacks. It is notable for its horizontal hand grip, which results in the blade of the sword sitting above the user's knuckles. Typically, kattaris were used in close range hand-to-hand combat, which is effective in armor piercing. The blade was often corrugated for additional strength. This weapon is often used by assasins.
Similar kind of the picture.
Ad blocker interference detected!
Wikia is a free-to-use site that makes money from advertising. We have a modified experience for viewers using ad blockers

Wikia is not accessible if you've made further modifications. Remove the custom ad blocker rule(s) and the page will load as expected.