At the time of it's introduction in 1943, the Panzerkampfwagen VI (Tiger I) was nigh unstoppable as most anti-tank weapons at the time could do little more than dent the heavy armour at range.
It's 88mm gun could easily penetrate allied medium tanks (M4s, T-34s, Cromwells...), and it therefore was greatly feared by these crews.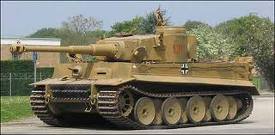 Ad blocker interference detected!
Wikia is a free-to-use site that makes money from advertising. We have a modified experience for viewers using ad blockers

Wikia is not accessible if you've made further modifications. Remove the custom ad blocker rule(s) and the page will load as expected.