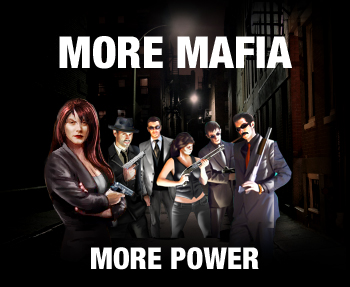 What are the benefit of having a huge mafia?
As of December 2009, there is no longer any benefits from having a big mafia except for fighting.
Where are the source of your mafia?
Mass email list
You can send a maximum of 1000 emails invitation per day. Friend request has a 30 requests limit. Therefore, a lot of people like to spam invitations using email. This is a easy way out for those lazy mafia that just wants to sit back and relax while their mafia grows.
Note: Create a dummy email while using mass email list to avoid having spam to your main email.
Recommend: Monkeytooth.net is the biggest Mafia Wars Email List
Groups & Fanpage
These two are where all the people gather together. There are no other places where you can gain friends quickly. You can gain as much as 100 friends requests in just 10 minutes during the peak period.
Note: Be careful while joining groups or fan page, there are many scam groups out there just to cheat you from clicking their advertisement link to earn income. Other than Zynga, noone can provide free godfather points.
Facts about mafia adding
There is currently no way you can gain any mafia without adding them as friends.
There are 2 times when Zynga unintentionally release a feature to add any mafia without adding them as friends, many players add thousands of mafia in a day, however, the loopholes were quickly patched days after.
Ways you can add your friends into your mafia
Send Mafia Wars Invitations
This is not a very effective ways as you only can send a maximum of 30 invitations per day, especially when you could have hundreds of invites.
Status invite
This is the link that is created when you hit the "Need a bigger Mafia?" button.
The link look like this: http://apps.facebook.com/inthemafia/status_invite.php?from=XXXXXX, where XXXXXX is the profile id of your friend
Declare War Link
This was exactly the same link during the "Friend Loophole" bug. Zygna has sealed up the loophole, however the link is still available for a player to add his friends to the mafia.
The link looked like this: http://apps.facebook.com/inthemafia/remote/html_server.php?xw_controller=war&xw_action=add&xw_city=1&friend_id=XXXXXX is the profile id of your friend.
Tools to add your friends into your mafia quickly
Mod'd Version of Vern's ConfirmAll which stopped working when FB made changes to the requests page.
Confirm 200 friends requests in one goal by using this tool, add them into a list so that you can know who you add.
Vern Hart's great AddAll bookmarklet wasn't working any more after numerous changes by Zynga and Vern stopped updating his scripts quite a while ago so I decided to modify the script and get it working again. This bookmarklet script should be run from your 'recruit mafia' page in Mafia Wars. It looks at the list of Facebook friends on the screen and adds them to your mafia one by one without using invites. The bookmarklet is in the box below. You don't click this bookmarklet link here on this page. To use it, you just drag it to your bookmarks toolbar in your browser and then click it when you are on the recruit mafia page in Mafia Wars. If you are using Google Chrome and don't see your bookmarklet toolbar, press Ctrl-B.
Add all your friends into the mafia in one goal by using this tool.
Here is the screenshot of the social fight reward experience I got in just one month.

What are you waiting for? Expand your mafia today!
Ad blocker interference detected!
Wikia is a free-to-use site that makes money from advertising. We have a modified experience for viewers using ad blockers

Wikia is not accessible if you've made further modifications. Remove the custom ad blocker rule(s) and the page will load as expected.