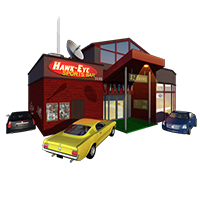 The Sports Bar was introduced on September 8, 2011 as the fifth non-cash generating property in New York / Manhattan.
"

There's a new New York City property in town, and you have got until 12:00 pm PDT on Thursday 9/15/2011 to upgrade it to its maximum potential through feeds/requests. Your Sports Bar will retain the level to which you are able to upgrade it by the time the countdown timer reaches 0:00:00.

The Sports Bar will allow you to craft some awesome sports-themed items, including ones with skill points when you've upgraded the property to higher levels.

We will be releasing a new limited-time-to-upgrade NYC propertiy each week for the next few weeks, so stay tuned and get your Mafia to help by sending you upgrade parts!-Mafia Wars Blog
"
This is a limited-time-to-upgrade property in which you have 7 days to upgrade to level 10 (or as far as you can). After this period you will no longer be able to upgrade normally. You get to keep the level you reached and are able to build the items. However, you can still buy the required upgrade parts using Reward Points.
Unlike regular crafting properties, there is no cost-per-item each time you craft. You can craft once every 18 hours.
Building Material
Edit
Building Cost
Edit
| Level | Items |
| --- | --- |
| 1 | x1, x1, x1 |
| 2 | x2, x2, x2 |
| 3 | x1, x1, x1 |
| 4 | x1, x1, x1 |
| 5 | x2, x2, x2 |
| 6 | x2, x2, x2 |
| 7 | x3, x3, x3 |
| 8 | x6, x6, x6 |
| 9 | x8, x8, x8 |
| 10 | x10, x10, x10 |
| Total | x35, x35, x35 |
costs have changed. Level 2 updated, level 3 onwards is outdated.
Production
Edit
Ad blocker interference detected!
Wikia is a free-to-use site that makes money from advertising. We have a modified experience for viewers using ad blockers

Wikia is not accessible if you've made further modifications. Remove the custom ad blocker rule(s) and the page will load as expected.