Ad blocker interference detected!
Wikia is a free-to-use site that makes money from advertising. We have a modified experience for viewers using ad blockers

Wikia is not accessible if you've made further modifications. Remove the custom ad blocker rule(s) and the page will load as expected.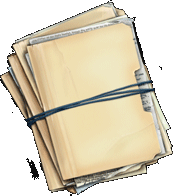 Set of Illegal Transaction Records is a Consumables. To master the Consigliere, Underboss, and Boss levels, a total of 424 will be needed.
Purchasing Info
Edit
The Illegal Transaction Records can not be bought, but can only be received though doing the Steal Bank Records job or through the Free Gift Program.
September 28, 2010 - purchase 10 Set of Illegal Transaction Records for 20 RP through the Godfather.
Related Jobs
Edit
Looted From:
NY: Capo - Steal Bank Records
Free Gifts


Needed For:
NY: Consigliere - Fix the Big Game - 15/17/20
NY: Underboss - Embezzle Funds Through a Phony Company - 34/50/100
NY: Underboss - Extort a Corrupt Judge - 20/25/34
NY: Boss - Shake Down a City Council Member - 25/34/50


Total Needed: 424