Frankenstein Poker Chips is a special loot item from the Halloween 2009 Loot Event. It can be found inside Halloween Crates when offered by the Godfather. This item was originally called Bloody Poker Chips and had a different image at the start of the Halloween 2009 event. It is a spoof of another of Zynga's games, Zynga Poker.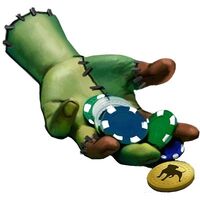 Ad blocker interference detected!
Wikia is a free-to-use site that makes money from advertising. We have a modified experience for viewers using ad blockers

Wikia is not accessible if you've made further modifications. Remove the custom ad blocker rule(s) and the page will load as expected.