Ad blocker interference detected!
Wikia is a free-to-use site that makes money from advertising. We have a modified experience for viewers using ad blockers

Wikia is not accessible if you've made further modifications. Remove the custom ad blocker rule(s) and the page will load as expected.
Top Mafia position that awards More Cash from Fights (up to 15%) Choose a member with many successful heists to promote to Safecracker to get more money from fighting and robbing.
Your Safecracker gains a small chance to gain double the money when fighting or robbing.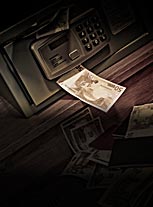 Safecracker Bonus
Grants more money from Fights
# of Heists
Bonus %
1 to 18
5
19 to 98
6
99 to 498
7
499 to 998
8
999 to 3998
9
3999 to 6998
10
6999 to 9998
11
9999 to 19998
12
19999 to 39998
13
39999 to 49998
14
49999+
15
Any Character Type