Hi-res Image
Edit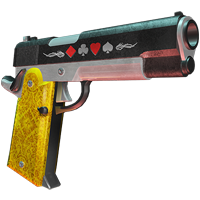 A royal flush is won in poker when you have a 10, J, Q, K, and Ace of the same suit.
This weapon is an M1911A1 variant, which a couple of notable features. The first being its customized casino themed grips and slide. In addition, its trigger guard is of a different variety than that of most M1911A1's, and an inordinately large muzzle diameter. It also contains a beavertail grip safety.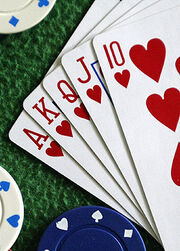 Ad blocker interference detected!
Wikia is a free-to-use site that makes money from advertising. We have a modified experience for viewers using ad blockers

Wikia is not accessible if you've made further modifications. Remove the custom ad blocker rule(s) and the page will load as expected.