Mafia Poker is a the Five Card Poker game. You get 5 cards where you need to get the best combination with the 5 cards. Unlike the real Five Card Poker game you can discard your cards unlimted times (unless you run out of cards).
"

Hello Mafia Players,

We are aware that some of you are experiencing the following issue: Mafia Poker Issues

Issue: Some players report that their "Draw" button goes missing. Others report that, even after understanding that we consider the Ace the highest card, not the lowest, they will sometimes lose with a winning hand, such as two pairs vs. the dealer having just one.
Status: We have determined that most, if not all, of these issues are the result of playing Mafia Wars in multiple tabs/windows and/or with scripts. Please try disabling any scripts you may be using and playing the game in only one tab or window. If, after doing this, you still experience any issues with Mafia Poker, please add your details to this Bug Report.
Workaround: Disable scripts and play Mafia Wars in only one tab/window at a time. If you know of another workaround for this issue, please Submit A Workaround.

Thanks,

The Mafia Wars Team
"

Instructions
Edit

Rank of Hands
Edit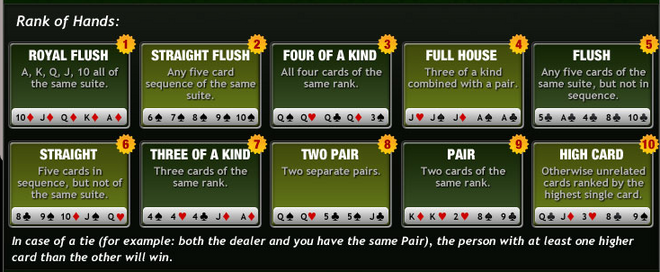 Overview of Mastery Rewards for each of the mafia poker season, attack and defense values represent maximum values for a fully completed mafia poker season. Each mafia poker season runs for 1 week. For more details on each mafia poker season check the individual pages.