Jimmy Lechon
Comments

8
7,989pages on
this wiki


Jimmy Lechon
Information
Available from
November 4, 2011
Type
Boss Fight
"
Silverio Fallaci is being pushed out* by Jimmy Lechon, the new Family Boss who thinks there's not enough room for the both of 'em. Use the collaborative strength of your family to show him that he's not as dangerous as he thinks he is, and be among the top contributors to the fight for a chance to recieve the Death Card (200/200) when your family beats him!

Family Boss Fights pit your entire family against an epic boss. In the case of Jimmy Lechon, you'll have 7 days to reduce his 1,125,000 health to zero. (You may have more or less time to take out future Family Bosses.) Whenever the timer runs out on a Family Boss Fight, the boss' health resets and you will have another chance to prove your family is in charge.

Note: If your family is currently engaged in a Family Boss Fight with Silverio Fallaci, you'll have to complete that fight in order for Jimmy Lechon to become available.

If you're not familiar with how Family Boss Fights work, be sure to read our introductory post, otherwise get in there and show Jimmy Lechon what your family's made of!

"
There are 3 roles each family member can choose from to help in defeating the boss. These roles are:
Bruiser: Bruisers grant you the ability to deal double damage.
Arsonist: Arsonists reduce the Boss' Rage to help you do more damage.
Racketeer: Racketeers reset your Fatigue to reduce the stamina costs of your attacks.
You can fight Clyde Axworthy in 2 different ways. You can use stamina (which increase with your Fatigue amount) or you can use combos with the 4 new consumables (limit 50/day).
Jimmy Lechon
Information
Appearance
Jimmy Lechon Family Boss Fight
Full Name
Jimmy Lechon
Gender
Male
Nationality
American
Status

Inactive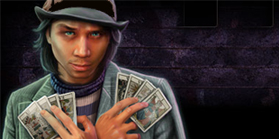 There is no Mastery Level with Jimmy Lechon. His health is the same in all fights.

1,125,000

Death Card
200 200 400

Javan Langur
124 82 206

Alienation
86 126 212

Capricorn
88 128 216

Persian Leopard
139 94 233

Heartpiercer
84 115 199

Scorpio
112 82 194

Clocktower Jacket
114 81 195

Waterproof Gloves
80 111 191

Jawbone Helmet
112 80 192

Floatberry
83 112 195

Swiftsilver
113 82 195

Lodjur
83 110 193

Blue Racer
81 114 195

Peregrine Falcon
115 80 195

Mark 14-X
109 78 187

Grim Switchblade
80 106 186

Mini Vera
79 109 188

Simoom Breaker
80 107 187

Shutter View Goggles
106 81 187

Cheeder
80 107 187

Hummerpotamus
108 79 187

Rhinocycle
105 80 185

Gulper Eel
105 81 186

Skunk
80 110 190