Overview
Lucky Stash
was introduced on July 23, 2010 as a mini game. Each player can play the slot by using 1 or 3
Reward Points
each time, or by using a "free spin" that's given out once every 24 hours. You can win 3 extra free spins by playing the mini slot machines that show up in your news feed. Click the image icon and a slot machine will pop up. You can spin it 3 times and you'll
always
win 1 free spin. You'll have 3 tries to line up the same 3 images in line. All the images give 1 free spin except the Mafia Wars logo which gives 2 free spins.
Payout is 1x, 2x, and 3x except for the Jackpot. You must play 3 credits to win the Jackpot.
There is a "Jackpot" bonus that will increase as other players play the game and resets when someone wins it. There is a link to the Jackpot winner history.
Every time you spin, you'll fill the "Bonus Meter". By filling the bonus meter, you'll get a chance (by spinning a wheel, not a slot machine) to earn some Reward Points (5, 10, or 20) or a rare loot item (listed below). The "Bonus Meter" is full after 20 spins. After you use the bonus spin, the meter resets.
There are seven symbols that appear on the three wheels. Three are the words "Mafia Wars" in Red, Black, and Grey. The other four are a bear, gun, tank, and woman.
Shutdown

Commencing October 15, 2012 it was announced via a week long event that the Slot Machine would be shut down on October 21, 2012. During this time players were given 2 free spins per day instead of the usual 1, as well as earning double RPs & Loot from wins on the Bonus Wheel.
Items
Payout Table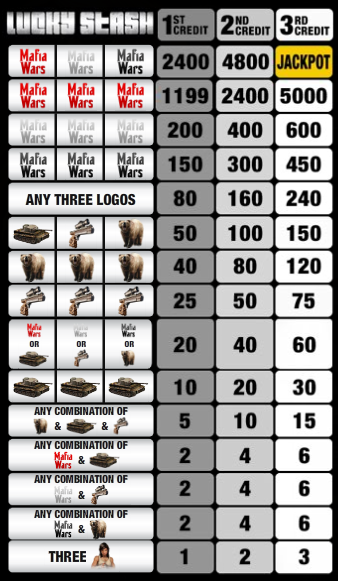 Gallery