On May 8, 2010, Zynga promoted the Hyro Glove as a 2nd Generation Gold Treasure Chest item, but did not release the glove.
On May 18, 2010, Zynga introduced the Hyro Glove as a lootable item from the Bangkok Chapter 6 job Bribe A Royal Thai Army Colonel. Shortly after, the loot drop was changed to the Nak Kha Shotgun.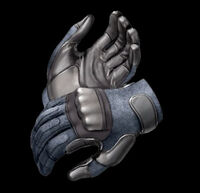 Ad blocker interference detected!
Wikia is a free-to-use site that makes money from advertising. We have a modified experience for viewers using ad blockers

Wikia is not accessible if you've made further modifications. Remove the custom ad blocker rule(s) and the page will load as expected.