Ad blocker interference detected!
Wikia is a free-to-use site that makes money from advertising. We have a modified experience for viewers using ad blockers

Wikia is not accessible if you've made further modifications. Remove the custom ad blocker rule(s) and the page will load as expected.
You can pay a doctor in the Hospital to increase your health to the maximum.
You have to wait 60 seconds before you can heal yourself again. Prior to mid-2010 the wait time for before healing again used to be 45 seconds. The mastery reward for the Belem region in Brazil, the NGO Mask, can reduce this cooldown timer by up to 20 seconds.
If you don't have enough money on hand to fully heal, the excess difference will be drawn from your bank account in the current city. If you still do not have enough funds including your bank account, you cannot heal in that city.
You can now use Power Packs to heal with, which doubles your health or spend 2 Reward Points.
You can now double your health for 5 minutes by spending 5 Reward Points when you want to heal.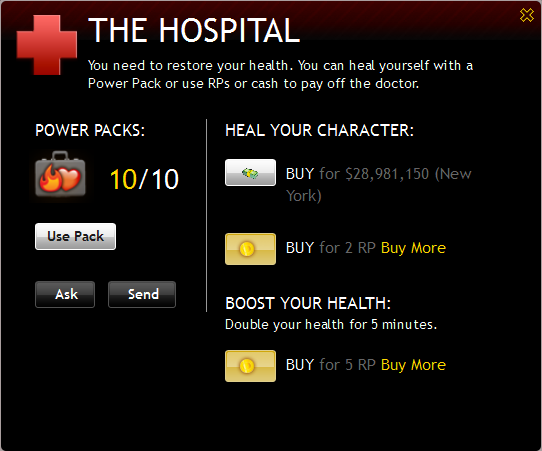 Cost Formula
Edit
The cost to use the hospital is calculated by multiplying the player's current level by the number of health points to be healed, then multiplying that by the city's cost factor. As an example, the healing cost is shown below for a level 600 player needing to heal 125 health points.
| City | Cost Factor | Example (level 600, healing 125 points) |
| --- | --- | --- |
| New York | $ 5.00 | 600 * 125 * $ 5 = $ 375,000 |
| Cuba | C$ 0.50 | 600 * 125 * C$ 0.5 = C$ 37,500 |
| Moscow | R$ 5.00 | 600 * 125 * R$ 5 = R$ 375,000 |
| Bangkok | B$ 0.05 | 600 * 125 * B$ 0.05 = B$ 3,750 |
| Las Vegas | V$ 5.00 | 600 * 125 * V$ 5 = V$ 375,000 |
| Italy | L$ 5.00 | 600 * 125 * L$ 5 = L$ 375,000 |
| Brazil | BRL$ 0.50 | 600 * 125 * BRL$ 0.5 = BRL$ 37,500 |
| Chicago | CHI$ 0.005 | 600 * 125 * CHI$ 0.005 = CHI$ 375 |