"

Trick or loot? We hope you're ready for some fantastic Halloween loot because we've got haunted limited edition items coming your way! We'll have 4 scary Halloween-themed items available in the Marketplace for a limited time only, so you'll have the perfect opportunity to get this spooky collection.

If you need some extra protection in your fights, you won't want to miss the Bone Cycle, with 39 attack and 76 defense, or the Hell Sickle, packing a 36 attack and 77 defense! If offense is more your game, you'll want the Doom Gauntlet with 76 attack and 41 defense on your side, as well as the Nightmare, a powerful animal that brings 77 attack and 37 defense!

Don't miss out on the treats - be on the lookout for these fantastic goodies coming your way soon!
"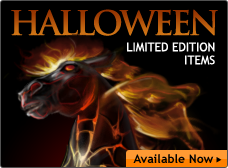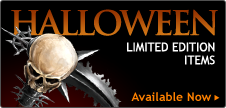 "

Crash the Mayor's Halloween Party! Mafia Wars is bringing the Halloween Party to Social Missions. Starting this weekend, a new and exciting mission will be available. Perform these special limited time missions like you do the others but be warned, and try not to be scared these missions are haunted! Work with your mafia and you may end up with some exclusive Halloween themed loot like a Exploding Pumpkin or Supercharged Hearse. This is a great time to earn your Mission Achievements and pick up as many of the treats as you can. The more Haunted Halloween Missions you participate in, the more Halloween loot you will receive. Haunted Halloween Missions will last all weekend. Don't get tricked and miss out on all the fun.

"
You can get loot items from jobs and fights. Maximum number of loot drops is capped at 71 pieces (10 of each costume plus the Mastery Reward), though you still only need one of each to get the Vampire Bat.
Ad blocker interference detected!
Wikia is a free-to-use site that makes money from advertising. We have a modified experience for viewers using ad blockers

Wikia is not accessible if you've made further modifications. Remove the custom ad blocker rule(s) and the page will load as expected.