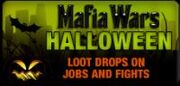 Halloween 2009 was a Loot Event that took place from October 30, 2009 to November 3, 2009. This event was done to celebrate Halloween 2009. As with all Loot Events, special loot would drop during jobs and fights that could be obtained by the player. A maximum of 32 total items from the event could be obtained. Items from Halloween 2009 were later available from the Godfather in Halloween Crates at the price of 20 Reward Points for 1 crate or 55 Reward Points for 3 crates. As of this time, items from this event are not giftable.
Halloween 2009 also coincided with the first Limited Time Job, Rob a Candy Truck, and introduced 3 Halloween gift items that could only be obtained through the Free Gift program. This was the first occurrence of exclusive Free Gift items.
This event was actually scheduled to end on November 2, 2009, but due to an error, loot drops were stopped the morning of November 2nd. They were restored later that night, and the event was lengthened an extra day. Ironically, the event was still cut short by a half hour on November 3rd due to scheduled game maintenance.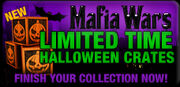 Available: November 4, 2009 - November 10, 2009

One Halloween Crate (20 Reward Points)
60% chance for
items
30% chance for

items
10% chance for

items
Three Halloween Crates (55 Reward Points)
60% chance for
items
30% chance for

items
10% chance for

items
| | | | |
| --- | --- | --- | --- |
| Name | Attack | Defense | Rarity |
| Dead End | 32 | 20 | |
Rob a Candy Truck was a Limited Time Job during the Halloween 2009 Loot Event. This was the first Limited Time Job released and was available from October 30, 2009 to November 4, 2009. It could only be completed once a day, but upon mastering this job, it could be done repeatedly, allowing the gain of 1 more Halloween Candy Truck every 24 hours. A glitch when this job first became available allowed it to be completed multiple times a day. The experience gained from this job varied depending on the player's level (to as little as 2, yielding 4 experience), but 200 and 100 were the max Experience and Energy gained and needed.

Mastery Levels
Payout
This job requires...
25%

 200 

Mastery Loot:
100
News feed images
Pictures
Ad blocker interference detected!
Wikia is a free-to-use site that makes money from advertising. We have a modified experience for viewers using ad blockers

Wikia is not accessible if you've made further modifications. Remove the custom ad blocker rule(s) and the page will load as expected.