The Haitian Relief Drum is an item that is availible for sale for 25 Reward Points on January 14, 2010. The purchase of the drum will 100% be donated to Zynga's HAITI Relief Fund. Which will help Haitian people who are suffering from the devastation of the January 12th Earthquake.
On 12 January 2010 16:53:09 local time, a magnitude 7.0 M earthquake struck Haiti, the death toll had reached 50,000 while it was expected to double to 100,000.
See also: Haitian Drum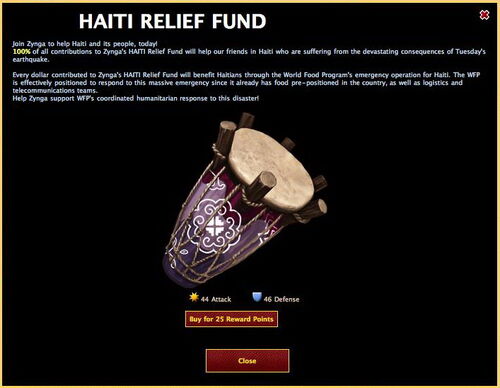 Ad blocker interference detected!
Wikia is a free-to-use site that makes money from advertising. We have a modified experience for viewers using ad blockers

Wikia is not accessible if you've made further modifications. Remove the custom ad blocker rule(s) and the page will load as expected.