Grizzly Bear

-Image © Zynga
Information
Available On
June 9, 2010
Type
Animals
Quality
Superior
Attack
25
Defense
59
Combined
84
Source
Marketplace
Giftable
Giftable
Smarter than the average bear.
The saying "Smarter than the average bear" is a quote once used by Baseball player and manager Yogi Berra as a play on his own name. Later, fictional Cartoon character Yogi Bear of Hanna-Barbera Productions used this quote in credit to himself as the real Yogi Berra once did. Yogi Bear is loosely modeled after a Grizzly Bear living in Yellowstone National Park, Wyoming.
Hi-res Image
Edit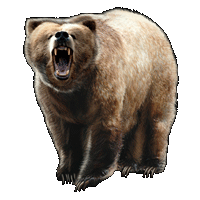 Ad blocker interference detected!
Wikia is a free-to-use site that makes money from advertising. We have a modified experience for viewers using ad blockers

Wikia is not accessible if you've made further modifications. Remove the custom ad blocker rule(s) and the page will load as expected.