Each gift of respect gives you a +5% to your respect meter for level 0, and +5% each level thereafter.
Each gift of disrespect gives you -10% to your respect meter.
Everytime your meter reaches 100%, you gain a level of respect.
Gifting Reward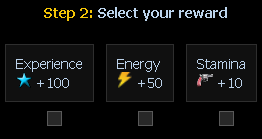 When sending gifts to your friends, you may select a reward. You can get Experience, Energy, or Stamina. The values can be calculated with the following formulas:
Experience
Energy
Stamina
Level
Amount
Level
Amount
Amount
1-74
25
1-74
15
10
75-300
Level/3
75-250
Level/5
301+
100
251+
50
The stamina reward is always 10.
2nd Generation Gift Safe House Add-On
Date Available: February 23, 2010
Respect Meter is introduced
Respect Level Bonus
After completing level 6, you can continue to receive gifts and increase your respect level. However, you will not get additional reward items for completing level 7 and above.
Date Available: February 9, 2010
Mastery Loot
You can get up to 3 cupids as reward.
| Name | Attack | Defense |
| --- | --- | --- |
| Cupid | 46 | 27 |
Disrespect Loot
2nd Generation Gift Safe House
Date Available: January 12, 2010
You have a maximum of 10 slots this time, and as long as you have an open slot you can keep receiving new gifts.
Access to the Gift Safe House was temporarily removed at 11:59 PM Pacific on January 31, 2010. It was restored later on February 1, 2010.
1st Generation Gift Safe House
Date Available: December 21, 2009
Mastery Loot You can get up to 5 Gift Wagon as reward.
Gallery
Ad blocker interference detected!
Wikia is a free-to-use site that makes money from advertising. We have a modified experience for viewers using ad blockers

Wikia is not accessible if you've made further modifications. Remove the custom ad blocker rule(s) and the page will load as expected.