Gain 2 levels in Frontierville to receive the Frontier Chainsaw.
In case of non-working link: Frontierville Promotion
If you've completed the promotion, but either missed the popup in Frontierville or had an error (start promotion again thing in Mafia Wars), click http://fb-0.frontier.zynga.com/xpromo.php?promoId=ftv_mafia_xpromo_0&promoDirection=incoming
Complete the Mafia Wars quest in Frontierville to receive the Bowie Knife
Mafia Wars Quest I
Edit

Mafia Wars Quest II
Edit
Click Here in case your link doesn't work.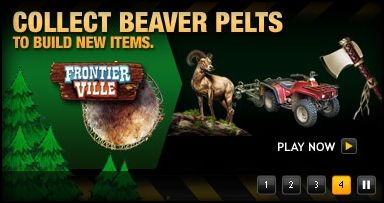 A Day In The Life Of A Beaver I
Edit

A Day In The Life Of A Beaver II
Edit
Collect Beaver Pelts to built
Ad blocker interference detected!
Wikia is a free-to-use site that makes money from advertising. We have a modified experience for viewers using ad blockers

Wikia is not accessible if you've made further modifications. Remove the custom ad blocker rule(s) and the page will load as expected.