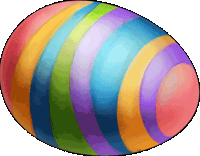 The Event
Edit
For four days only, buy all items at sale prices. Also, find the 7 mystery items for the Mafia Wars Easter Egg Hunt. The necessary items will change daily and you can find them by finding the hidden eggs. If you purchase the right items, you will be rewarded with a special discount. You will have through April 5, 2010 to find all 7 items; if you succeed you will have a chance at winning a variety of prizes with the grand prize being 100 Reward Points!
How to find the items?
Edit
Look for the Easter Egg icon (

) next to the Featured Item, to follow the trail!
One of the following:
Ad blocker interference detected!
Wikia is a free-to-use site that makes money from advertising. We have a modified experience for viewers using ad blockers

Wikia is not accessible if you've made further modifications. Remove the custom ad blocker rule(s) and the page will load as expected.