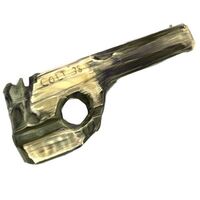 John Herbert Dillinger (June 22, 1903 – July 22, 1934) was an American bank robber in the Midwest during the early 1930s. He was considered to be a dangerous criminal who was involved in the deaths of several police officers, robbed at least two dozen banks and four police stations, escaped from jail twice and was idolized by some as a modern-day Robin Hood (except he kept the money instead of giving it to the poor).
Dillinger was able to secretly carve a wooden gun in his jail cell. Using it, he was able to trick a guard into opening his cell. He then took two men hostage, rounded up all the guards in the jail, locked them in his cell, and fled.
Ad blocker interference detected!
Wikia is a free-to-use site that makes money from advertising. We have a modified experience for viewers using ad blockers

Wikia is not accessible if you've made further modifications. Remove the custom ad blocker rule(s) and the page will load as expected.