Defeat Roughhouse Rafael
Comments

228
8,006pages on
this wiki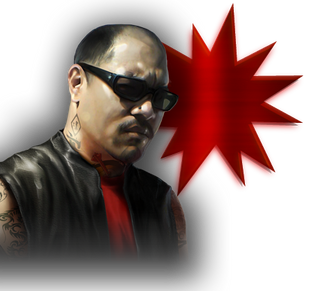 Defeat Roughhouse Rafael
Information
Available from
May 11, 2011
Available until
May 17, 2011
Type
Boss Fight
"

The Boss Fight you know and love has been upgraded! This is the first of a number of exciting fighting features coming to Mafia Wars this quarter! In this Boss Fight, you'll be tasked with taking out Roughhouse Rafael, and you're given one week to do it!

A full week of fighting?... Sounds like only those with high stamina will survive. On the contrary, stamina has nothing to do with this fight! Instead, you will need to collect 4 new ammos from jobs, wars, robbing, and, should you choose, gifting to bring down Roughhouse.

As for the new ammos, our informants tell us that it would be unwise to assume that any one ammo is the best and use it the whole time. Apparently, the ammos, when used in certain sequences, unlock particularly damaging combos! You will have the opportunity to discover one such combo by completing a Quest Event that will run during the Boss Fight. Other combos, you will have to discover on your own or via your friends' feeds, if they beat you to the punch.

Get ready, 'cause only the roughest and toughest will win this Boss Fight!

"
Roughhouse Rafael

-Image © Zynga 
Information
Appearance
Defeat Roughhouse Rafael
Full Name
Roughhouse Rafael
Gender
Male
Nationality
American
Status

Inactive
"

You put up one helluva fight. But i doubt you can beat me again!
Dang you are hella tough. I can't believe you annihilated me.

"



165 

114 

279
"

That's Sam Hadwick, former strong-arm for Roughhouse Rafael. He's got some insider info on how to take down his past boss, including where to get some neccessary ammo. And hey, still having trouble finding that third combo - the red one? Sam can help with that too. So go complete his mission; it's the only way you're going to nab Roughhouse's Asphalt Assault Motorcycle.
"
All missions unlock in the order displayed unless otherwise indicated.
Black and BlueEdit

"Hey boss. Some of our boys came back last night from a job, all beat up. You're the biggest dog in town, so who would mess with us? We should find out." - Auria Wilson

"Well, everyone agrees he's tough. But it turns out one of our own might know the secret to bringing him down." - Auria Wilson
The Achilles HeelEdit
"Yeah, I did some work for Rafael years ago, before I joined ranks with you. Didn't like his style. You know his type - all brawns, no brains. But he's definitely got a weakness that we can exploit." - Sam Hadwick
"Great, boss. This is exactly what we need. But we should still stock up on supplies to take him out." - Sam Hadwick
Bomb ShopEdit

"We need supplies? That's convenient, There's this new pawnshop at the edge of town. The owner's got an explosives fetish. If we get a ton of bombs, we could probably trade them in for just about anything." - Henry Lam

"I hope he's got some good fire insurance on this place. I sure as heck don't want to be around if someone accidentally lit a match." - Henry Lam

"Hey boss, if we still need more supplies, our boys in Vegas can help us out. They'll ship us whatever we want if we take out the people who double-crossed 'em out here." - Auria Wilson

"Great work, boss. Our stores are just about full. Hopefully it will be enough to take out Rafeal." - Auria Wilson
Achievement
Edit
Icon
Description

Rafael Boss' Weak

Earned May 13, 2011
Earned by finding all ammo combos to use against Rafael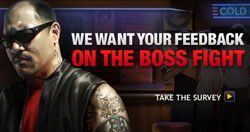 Give your feedback on the Boss Fight in this
4 Question Survey
.