Curare is a common name for various arrow poisons originating from South America. The three main types of curare are:
Tubocurare (also known as tube or bamboo curare, because of its packing into hollow bamboo tubes; main toxin is D-tubocurarine). It is a mono-quaternary alkaloid, an isoquinoline derivative.
Calebas curare (also called "gourd curare" by older British classifications, being packed into hollow gourds; main toxins are alloferine and toxiferine)
Pot curare (packed in terra cotta pots; main toxins are protocurarine, protocurine, and protocuridine).
Of these three types, some formulas belonging to the calebas curare are the most toxic, relative to their LD50 values.
A curare gun, then, is a gun that shoots darts containing one of these types of curare.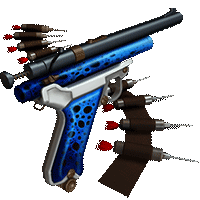 Ad blocker interference detected!
Wikia is a free-to-use site that makes money from advertising. We have a modified experience for viewers using ad blockers

Wikia is not accessible if you've made further modifications. Remove the custom ad blocker rule(s) and the page will load as expected.