Ad blocker interference detected!
Wikia is a free-to-use site that makes money from advertising. We have a modified experience for viewers using ad blockers

Wikia is not accessible if you've made further modifications. Remove the custom ad blocker rule(s) and the page will load as expected.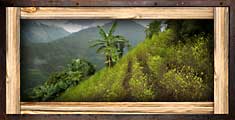 Initial Costs
Edit
Initial Takeover Cost: C$350,000
Initial Takeover Output: C$4,000 every 3 hours
Upgrades
Edit
Production Profit
Edit
Initial Product is Raw Coca (C$40)
Upgrade Product to 25% Pure Coca (C$50) for C$96,000
Upgrade Product to 50% Pure Coca (C$60) for C$134,400
Upgrade Product to 75% Pure Coca (C$70) for C$188,200
Upgrade Product to 100% Pure Coca (C$80) for C$263,000

Mogul receives 5% bonus; 100% Pure Coca = C$84 per unit.
Maximum Capacity
Edit
Initial Capacity is 800
Upgrade Capacity to 960 for C$48,000
Upgrade Capacity to 1120 for C$62,400
Upgrade Capacity to 1280 for C$81,100
Upgrade Capacity to 1440 for C$105,500
Upgrade Capacity to 1600 for C$137,100
Upgrade Capacity to 1760 for C$178,200
Upgrade Capacity to 1920 for C$231,700
Upgrade Capacity to 2080 for C$301,200
Upgrade Capacity to 2240 for C$391,600
Output (Per 3 Hours)
Edit
Initial Output is 100
Upgrade Output to 120 for C$48,000
Upgrade Output to 140 for C$62,400
Upgrade Output to 160 for C$81,100
Upgrade Output to 180 for C$105,500
Upgrade Output to 200 for C$137,100
Upgrade Output to 220 for C$178,200
Upgrade Output to 240 for C$231,700
Upgrade Output to 260 for C$301,200
Upgrade Output to 280 for C$391,600
Total Costs and Profit
Edit
Fully Upgraded Cost: C$ 3,755,200
Fully Upgraded Output: C$22,400 every 3 Hours, C$23,520 every 3 hours with Mogul bonus
ROI: C$3,755,200 / ( C$179,200)/day = 20.96 days to payback