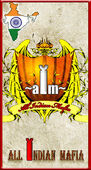 We, the All Indian Mafia ~Ĭ~, are a dedicated Mafia Wars crew created purely for the Indian Players around the world. We are Dedicated to our Members and dedicated to the game. This is NOT a crew that exists merely to give you a "tag". This is a crew that will be proactive in helping our players grow stronger and gain knowledge on becoming a better player and achieving everything the game has to offer.
Objectives to be achieved:
Be respectful to each other.
* Democracy is practiced. Every voice will be heard.
* Grow strong together.
* Rise above to be respected and honored.
"Our Loyalty is Our Bond and together we will achieve greatness"
War page: ~Ĭ~ Slaughter House
Clan Page: http://www.facebook.com/group.php?gid=121540321214277