Who are |K| The Keepers |K|?
We are a Family that is all inclusive of players from all walks of life and all types of game play. We do not discriminate and indeed welcome peoples of any race, religion or lack thereof, gender, national origin, or sexual preference. We like to pride ourselves in being diverse and accepting of all people and making our Family a place where judgments are left at the door when we come together to enjoy the game we all have decided to play, Mafia Wars. Intolerance is considered ignorance in our Family and will be dealt with by the offender being permanently banned for life.
Therefore, ALL peoples-- gay, straight, black, white, democrat, republican, tall, short -- ALL people are welcome in our Family. In addition, people who simply play the game to relax for 30 minutes a week as well as those who play the game for hours on end, are welcome in this Family. We attempt to provide enjoyment and support for ALL our members.
If you wish to request to join our Family, please add the Family Registrar, then click the button to request to join. You will then be added to the group and be able to view all the boards and additional Family information.
Thank you for your interest in The Keepers. We look forward to having you as part of our Family.
Puter Guy

|K| Chancellor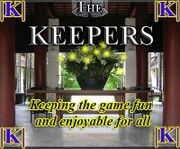 Ad blocker interference detected!
Wikia is a free-to-use site that makes money from advertising. We have a modified experience for viewers using ad blockers

Wikia is not accessible if you've made further modifications. Remove the custom ad blocker rule(s) and the page will load as expected.