Here at [SAA] Shock and Awe we stand for fun,fighting,and for overall friendships. We have a Joke of the Day section for the fun part of it as not to mention the fun of the game of Mafia Wars.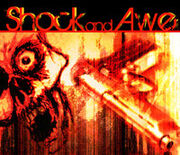 We have Fighting Squads that will participate in Real and Mock Wars.As we mainly want to stick to Mock Wars there always comes a time when a Group can come under attack from another.that is the purpose of the Fighting Squads.
We also have what we like to call a Social side of the group to where anyone can join and become friends with all of us and enjoy the fun that we do within the game of Mafia Wars.We will also hold competitions for loot to help participation and also it will be rewarding the winners with some good Loot. There will also be a time that one of our Fighting Members or Social Members will become under attack from a Bully that they cannot handle.So we will have an area for you to post your attacks and can be determined how it will be handled as far as sticking up for our members. We also welcome any and all suggestions from all members.We strive to keep our facebook chats online aswell as using other chat programs so Admins can darn near be contacted at any time within reason. With that being said have a look around the Recruitment Page And hopefully you will like what you see.
Ad blocker interference detected!
Wikia is a free-to-use site that makes money from advertising. We have a modified experience for viewers using ad blockers

Wikia is not accessible if you've made further modifications. Remove the custom ad blocker rule(s) and the page will load as expected.