Clans/Night Watchers Mafia
Comments

3
9,894pages on
this wiki
We are a fair play clan who believes its not about numbers as much as it is about quality. We focus on helping each other grow stronger while fighting together to become one of the best and united clans out there. If this means taking people off the hitlist/collecting bounties, so be it. We welcome all different levels of fighters as long as you meet some requirements.&nbsp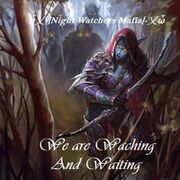 We are always looking for the best of the best to join our family. With this comes a very close group of players who believe in loyalty, integrity, honor, and standing up for the good of others. If you wish to join our elite group of players, fill out the questionnaire below.
All requirements must be met prior to being accepted as a tagged member. Please be sure to read the clan rules prior to filling out the questionnaire, or contact an admin/officer with any questions. Recently we changed our requirements to become a tagged member. The following are the updated requirements.
Have at least 15k combined attack & defense skills.
Have a minimum of 300k mafia attack and mafia defense.
All members of the family must be added to your mafia.

If you do not meet all the requirements, but are still interested in becoming a tagged member of NWM please fill out the application and someone will contact you. ****
APPLICATION:https://spreadsheets0.google.com/viewform?formkey=dHFfSE9idEdmVm84UkJHQkh2eW1OR2c6MQ

GODMOTHER / FOUNDER: Toni Brooks
http://www.facebook.com/raingdss
CO-GODMOTHER: Beth Witt
https://www.facebook.com/bethwitt1
UNDERBOSS: Andrew Klein