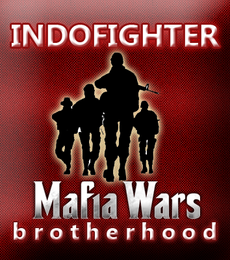 Welcome Mafia !
Edit
On The past, we're a group of mafia wars that only accept a member from Indonesia (only), but from time to time, we meet several people from another places ask us to join Indofighter, we said "You Can't!" But now, we're set up something new, we realized that to build a communication each other, to build a relationship on a place like "facebook" or a "Social Networking", we are not supposed to limit itself to the region of origin we have, so now we open to all International player to come and join us :)

Original member from Indonesia will wear a Tag [IndoFighter] and the International member wear [Īn√.Fighter].
Visit Us :Edit
★ [IndoFighter] / [Īn√.Fighter] BattleField ★
Edit
http://www.facebook.com/IndoFighterWP?sk=wall
Recruitment :Edit
Ad blocker interference detected!
Wikia is a free-to-use site that makes money from advertising. We have a modified experience for viewers using ad blockers

Wikia is not accessible if you've made further modifications. Remove the custom ad blocker rule(s) and the page will load as expected.