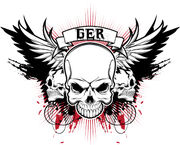 Clans
Click on the link below to search for your respective Clan
Index

* - 0-9 - A - B - C - D - E - F - G - H - I - J - K - L - M - N - O - P - Q - R - S - T - U - V - W - X - Y - Z
GERMAN MW ELITE [GER] ist ein ausschließlich deutschsprachiger Clan.
Edit


Wir bekriegen nicht grundlos andere Clans.

Jeder kann unserem Clan beitreten, unabhängig von der Nationalität, sofern man die Bedingungen erfüllt und die deutsche Sprache beherrscht.

Infos zu unseren Clan Bedingungen findest Du auf unserer Clan-Seite.

★★★☠★★★☠★★★☠★★★☠★★★☠★★★☠★★★☠★★★☠★★


GERMAN MW ELITE [GER] is an exclusively German-speaking Clan.
Edit


We're not at war with other clans without any reason.

Any person who plays mafia wars can join our clan, regardless of race, creed or colour as long he/she complies with our conditions and is able to write in German. On our wall you can write in English.

Informations about our Clan terms you can find on our Clan-Page.