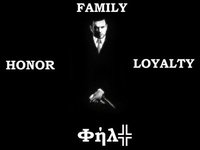 We are looking for loyal and dedicated Mafia Wars players to join us. We want to help you become better and stronger.
We offer loot exchange, advice, tricks and tips.
We want you to become one of the best in this game, and we will help you get there.
We have alliances with some of the best groups in the game and they also have our loyalty and respect.
We are a family. Once you join, you will become a part of something special.
We are a not just a group, but a family!
Family first! Our main requirements are HONOR and LOYALTY!
We are looking for " NO DRAMA " players to join our family! We also want for our family to be active with one another. It is expected of you to visit our group page at least once daily with some sort of communication. We want to grow strong as a family and help you grow strong as an individual as well.
Although we are family orientated, we will also be prepared to be a fighting family!
Please visit our recruitment site: http://www.facebook.com/group.php?gid=147817341908135
Alliance and fan page: http://www.facebook.com/group.php?gid=155529241128549
War Zone: http://www.facebook.com/group.php?gid=157551230927349
Ad blocker interference detected!
Wikia is a free-to-use site that makes money from advertising. We have a modified experience for viewers using ad blockers

Wikia is not accessible if you've made further modifications. Remove the custom ad blocker rule(s) and the page will load as expected.