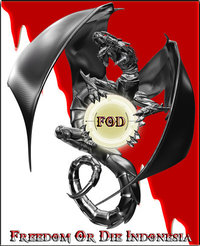 Freedom Or Die - Indonesia adalah clan yang dibuat para pemuda indonesia, untuk menyatukan semua golongan pemuda tanpa memandang strata usia, agama, harta, ataupun ras. Persyaratan untuk menjadi Keluarga -(FOD)- :
1. jangan sampai ada yang menghina ras, agama, atau apapun yang bisa merusak persaudaraan sesama pemuda indonesia.
2. Siap saling membantu sesama saudara -(FOD)- Indonesia
3. Creator dan Admin tidak ada bedanya dengan keluarga -(FOD)- lainnya. Maka sebutan BOS, KOMANDAN, JURAGAN atau yang tidak layak digunakan, tidak diperkenankan untuk dipakai di -(FOD)- Indonesia
4. -(FOD)- Indonesia Hanya menerima Single TAG.
Registrasi dan War Page
Edit
Slogan -(FOD)-
Edit
Indonesia tanah air kita, bahasa indonesia bahasa kita, jangan ada perbedaan di dalam pemuda indonesia. mari satukan kekuatan Mafia War kita dalam satu clan -(FOD)- Indonesia.
Ad blocker interference detected!
Wikia is a free-to-use site that makes money from advertising. We have a modified experience for viewers using ad blockers

Wikia is not accessible if you've made further modifications. Remove the custom ad blocker rule(s) and the page will load as expected.