Ad blocker interference detected!
Wikia is a free-to-use site that makes money from advertising. We have a modified experience for viewers using ad blockers

Wikia is not accessible if you've made further modifications. Remove the custom ad blocker rule(s) and the page will load as expected.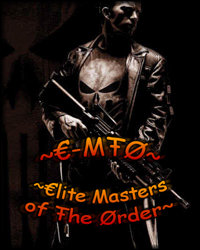 ~€-ΜŦØ~ Elite Masters of The Order
Edit
We are are a tagged group that is all about Mafia Wars... a civil war erupted back in February '10 and our group divided into 2 factions. We're the "original" [MTO] clan. We decided to change our tag and name to provide a peaceful and civil existence amongst our clan members.
Edit
~€-ΜŦØ~ Recruitment
Edit
If you want to become a tagged member of ~€-ΜŦØ~, please visit our recruitment page.
~€-ΜŦØ~ Recruitment Site