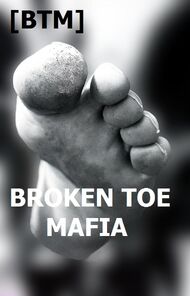 We are an elite mafia that strives to be the best of the best. BTM will always support our brothers and sisters with loyalty to each other and our alliances. We fight with clear rules of engagement that we adhere to at all times. We fight fiercely with honor, integrity, strength, and unity at all times. We allow no weak links. We expect communication and participation, as these are a must at all times. If you can meet these values, then come and be a Broken Toe Tagged member and wear the bandage proudly !
Application For Membership: http://fs20.formsite.com/BrokenToe/form500722621/index.html
Recruiting Page: http://www.facebook.com/?ref=home#!/group.php?gid=261201132729
Ad blocker interference detected!
Wikia is a free-to-use site that makes money from advertising. We have a modified experience for viewers using ad blockers

Wikia is not accessible if you've made further modifications. Remove the custom ad blocker rule(s) and the page will load as expected.