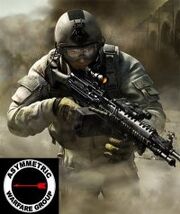 AWG conducts operational advisory assistance to family,alliances and friends of the family.Defending them is our honor.We are there to protect and serve all who are in need of.Our main targets are terrorists who try to take power over the weak.We help the weak to be strong.Fair play is our goal.
Our oath is to help our alliances..who,when and where ever
+++++++++++++++++++++++++++++++++++
Our motto is: Più forte attraverso uno sforzo - Stronger through effort!
Clans
Click on the link below to search for your respective Clan
Index

* - 0-9 - A - B - C - D - E - F - G - H - I - J - K - L - M - N - O - P - Q - R - S - T - U - V - W - X - Y - Z
Ad blocker interference detected!
Wikia is a free-to-use site that makes money from advertising. We have a modified experience for viewers using ad blockers

Wikia is not accessible if you've made further modifications. Remove the custom ad blocker rule(s) and the page will load as expected.