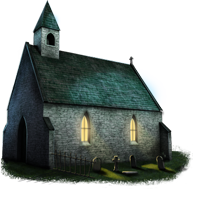 The Cemetery was introduced on October 20, 2011 as the tenth non-cash generating property in New York / Manhattan.
This is a limited-time-to-upgrade property in which you have 14 days to upgrade to level 10 (or as far as you can). After this period you will no longer be able to upgrade normally. You get to keep the level you reached and are able to build the items. However, you can still buy the required upgrade parts using Reward Points.
Unlike regular crafting properties, there is no cost-per-item each time you craft. You can craft once every 18 hours.
Grave Digger, Care Taker and Mummy were originally released as giftable items but were made non-giftable with the release of the Cemetery. Any player who had these, had them removed and the item removed from their wishlist.
Building Material
Edit
Building Cost
Edit
| Level | Items |
| --- | --- |
| 1 | x1, x1, x1 |
| 2 | x1, x1, x1 |
| 3 | x2, x2, x2 |
| 4 | x3, x3, x3 |
| 5 | x4, x4, x4 |
| 6 | x5, x5, x5 |
| 7 | x10, x10, x10 |
| 8 | x12, x12, x12 |
| 9 | x14, x14, x14 |
| 10 | x16, x16, x16 |
| Total | x68, x68, x68 |
Production
Edit