Black Friday Sale
Information
Available from
November 27, 2009
Available until
November 30, 2009
Type
Marketplace Sale
Blowout sale starting Friday, November 27th at 12:01am (PT), many hard to get items on sale at steeply discounted prices. Look for hourly specials and Black Friday limited edition items. Don't miss this golden opportunity. The event ends Monday, November 30 at 11:59pm (PT).
You will be rewarded with an Elephant Gun for every 20 items purchased during this event.
Black Friday Reward
There is a free limited edition reward for 20 purchases, an Elephant Gun.
Hourly Featured Items
November 27th, Friday
November 28th, Saturday
November 29th, Sunday
*Sunday night schedule the SUV went on 2 consecutive hours (7pm and 8pm).

November 30th, Monday
New Items
Previously-Released Limited Edition Items
Consumable Items
News feed images
Pictures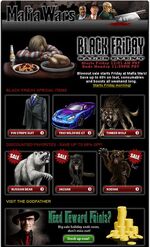 Ad blocker interference detected!
Wikia is a free-to-use site that makes money from advertising. We have a modified experience for viewers using ad blockers

Wikia is not accessible if you've made further modifications. Remove the custom ad blocker rule(s) and the page will load as expected.