Beat The Feds Challenge
Comments

657
7,983pages on
this wiki
Beat The Feds Challenge
Information
Available from
August 13, 2010
Available until
August 24, 2010
Type
Fight Challenge

Are you ready for the Mafia Wars Boss Fight Event? Starting this Friday (August 13, 2010), you'll get your chance to beat the Feds! For 10 days, you'll be taking on 4 bosses with the help of your mafia, and will work on earning a coveted mastery item for Las Vegas. The bosses will each have 3 levels for you to beat. Once you beat them all at the first level, you progress to the next level to continue fighting for your mastery. Each level you complete will give you a special reward, so be sure to finish them all to claim all the prizes!
You'll have to work quickly to beat the clock, so you can spread the word to your mafia to give you a hand. Helpers will be able to fight a boss as if they are facing the boss themselves. Here's where it pays to be strong - the toughest helpers who do the most damage per boss fight will receive additional rewards like experience, Vegas cash, fight tokens, and LE items for their help.
If you want to pack a solid punch, you can prepare for battle by making sure you have plenty of consumables like grenades, health kits, shivs, and stun guns to help you along the way. There's also safety in numbers - go recruit some new members to your mafia before the battle begins to better your odds of victory.
Due to people having technical difficulties with the event, Zynga has extended the Beat The Feds Challenge event by one day and gave everyone 100 Victory Coins and the Silenced Sniper Rifle.
Beat The Feds Challenge
Defeat Agent Karlin, Agent Miller, D.E.A. Iverson and D.A. Embry within 10 days.
Must be level 20 or higher to attempt the boss challenge.
For defeating these Agents you get an item and a Mastery Item for defeating all four of them. The stats of these items increase each mastery level.
For defeating an Agent you also get a Skill Point (12 Skill Points in total).
An attack at bronze mastery is

2 stamina each. You receive

2 Experience and

100 Vegas Chips for each attack.
An attack at silver mastery is

5 stamina each. You receive

4 Experience and

300 Vegas Chips for each attack.
An attack at gold mastery is

8 stamina each. You receive

8 Experience and

450 Vegas Chips for each attack.
The Feds
Agent Karlin
| | | |
| --- | --- | --- |
| Level | Health | Time to Defeat |
| | 900 | 9 Hours |
| | 6,000 | 7 Hours |
| | 24,000 | 5 Hours |
Agent Miller
| | | |
| --- | --- | --- |
| Level | Health | Time to Defeat |
| | 1,000 | 9 Hours |
| | 7,200 | 7 Hours |
| | 28,800 | 5 Hours |
D.E.A. Iverson
| | | |
| --- | --- | --- |
| Level | Health | Time to Defeat |
| | 1,800 | 9 Hours |
| | 8,400 | 7 Hours |
| | 33,600 | 4 Hours |
D.A. Embry
| | | |
| --- | --- | --- |
| Level | Health | Time to Defeat |
| | 2,000 | 9 Hours |
| | 9,600 | 6 Hours |
| | 38,400 | 4 Hours |
Rewards
Mastery Reward
Bonus
Due to the technical difficulties the event has been extended with 1 day and you receive

100 and a Silenced Sniper Rifle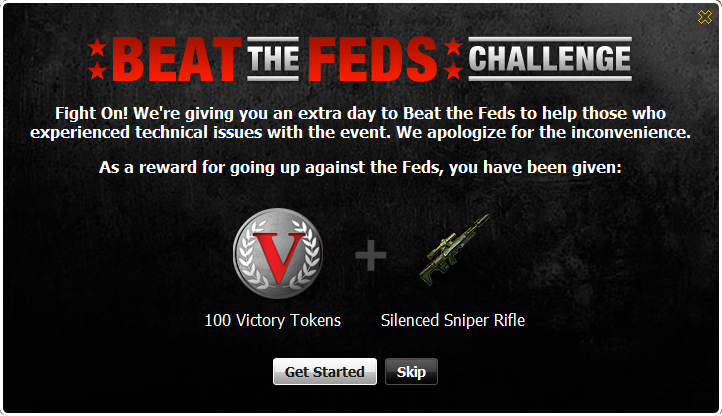 Gallery