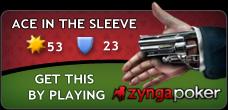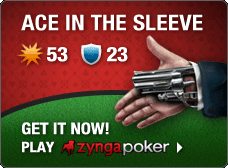 How to obtain
Edit
Click Here to enter in the game.
Play until reach level 6, if you are not already.
Since there is no promo banner anymore, you can just Click Here to get your Ace in the Sleeve
You should get a congrats message.
This also awards you an achievement of the same name. If you collect this from a Secret Mission you will also earn the achievement without every playing Zynga Poker!
"Poker fans, the Mafia Wars and Poker cross promotion is ending this Thursday (9/9) at 11:59 PM PST. You have a little more time to collect stamina and points for toughing it out on the tables. We hope you have enjoyed this promo and we'll keep you updated on the next one."
Tips for reaching level 6 rapidly:
Join an empty table with a friend and instead of actually playing, take turns folding immediately. You should reach level 6 in a matter of minutes.
Joining a table with higher blinds also yields more XP when playing or winning a round.
Winning and winning with higher hands yields more XP.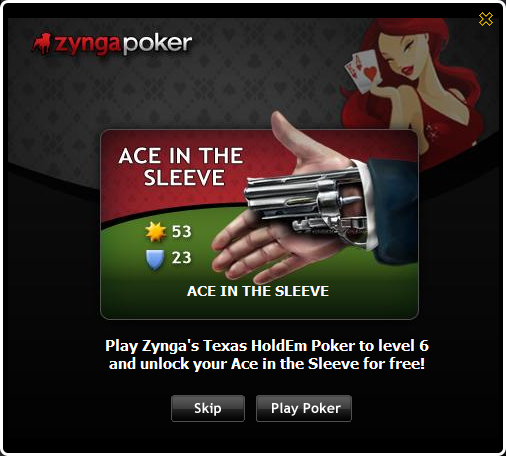 Gaining the Ace in the Sleeve from Secret Missions will also award you the achievement (if you did not get the Ace in the Sleeve from the Zynga Poker promotion).
Ad blocker interference detected!
Wikia is a free-to-use site that makes money from advertising. We have a modified experience for viewers using ad blockers

Wikia is not accessible if you've made further modifications. Remove the custom ad blocker rule(s) and the page will load as expected.